Tamakaci Dinosaur and Duck

Use the strap and carry it around like a watch or just as a regular pocket pet.

The maintenance seems a little high but not bad. It poops constantly! When it's not pooping, it's sick.

If you ignore it, it does seem to take neglect pretty well though.

The buttons respond fairly quickly. Always a nice feature.

A nice basic pet that runs well. I was not expecting it to be as nice as it is.

It is in the Gyaoppi family of pets so it follows the Gyaoppi  DUCK growth chart.

I can only assume the Dinosaur follows the Gyaoppi Dino growth chart too.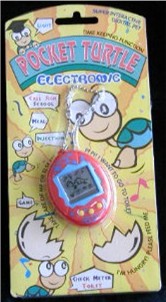 Pocket Turtle

It's a pretty easy pet though not especially exciting. The graphics are basic and kind of cute but it doesn't change much. I liked the dove version of this better.

That is on the page with all my stuff not in packages. I had this one going for quite a long time.

Elepets and Raise Chicks.

There are many different shell designs for this one.

These have actual Tamagotchi characters.

Of course the actual game play was different.

The buttons were nice and  responsive. The Elepets one took three or four naps a day. All in all, I'd say this is a nice one if you turn the sound off! It beeps often.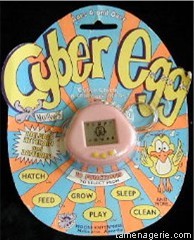 Cyber Egg

This is another one from Australia.

It says it was made in Melbourne, Australia!

Your average 10-function pet.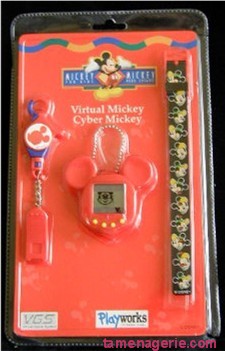 Virtual Mickey / Cyber Mickey

In this one, you become Mickey's friend.

To become his best friend, you must interact with him every day.

You get to chose what kind of day to have.

Chose a school day, holiday or relaxing day.

This is another one I just got and I have not played with it yet.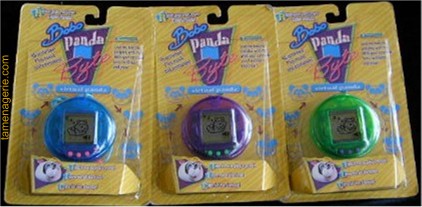 BoBo panda byte.

The panda gets 6 different foods, there are two games and you need to dress the panda for the weather. There are three different exercises and you need to groom him too.