Mousies!

Interactive robotic mice.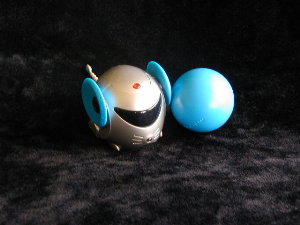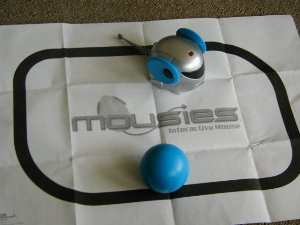 This is Fred. At the moment, he's a bachelor.

There is a mate for him named Didi but she is hard to find! I have only seen her at one store. Of course I can not get back there now. These were sold in pairs at FAO Schwartz.

For such occasions as a bachelor or bachlorette, these mice can find a mate and get *married* over the internet!

Onfortunately, fredanddidi.com has gone kaput!

There is just the Korean version available for downloads.

Give it a try. I don't know which download is which, but here's the link:

I just found another site for Fred and Didi, Didi and Titi. Mousies! Robochu

This is the mat that comes with them. They can follow that black line or you can use it as a Sumo ring if you also have Didi.

To keep these happy, you can feed and interact with them by pushing their bellybutton to get them in to various modes or they can be fed, given medicine, play and learn songs over the internet at their website.

When you chose an activity to download over the internet, you put the mouse's belly on your monitor. The box you put it on blinks in a series of black and white flashes that the infared sensor reads to complete the activity.

I have really been enjoying my little Fred. His electronic squeeks are adorable.



This page was last updated: February 7, 2007