Nano Puppy Family.

You need both of these going at the same time.

Raise these until adulthood, then you can have them mate and have puppies.

The puppies can then go from one unit to the other! Very nice touch.

It's the nicest mating virtual pet I've come across.

Nano Fighters also interact with each other.

Raise them then fight them.

There are three models. Supreme Sumo,

Rough Rider and Alley Rumble.

The contact points are on the sides, they do not lock together.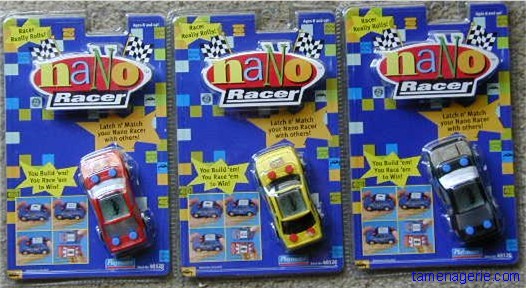 Talking Nano Baby, Puppy and Kitty.

All colors produced are represented.

They really talk.

There are six possible outcomes for each.

They are easy to take care of and actually tell you what to do.

They are very pleasant pets.

Nano Racers

Build a custom car. There are three tracks to race on.

Take good care and qualify your car.

You can race against other Nano Racers.

I have not had good luck with these. I love cars but I just have a hard time understanding just what I'm supposed to do with these.