Tamagotchi V3

February 2006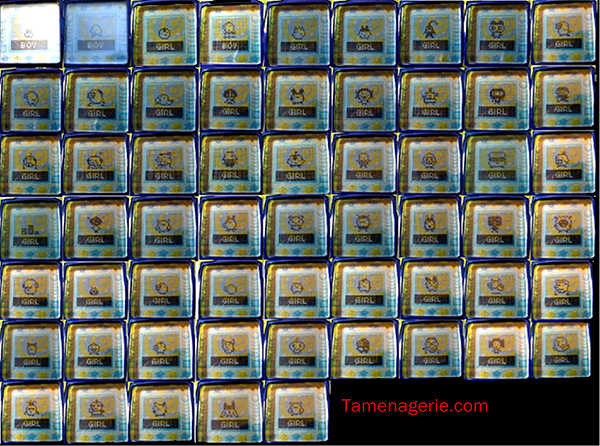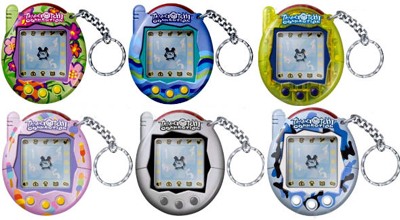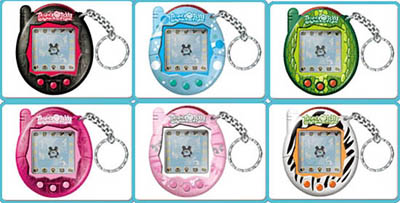 Released late January in most of the USA 2006 but were very hard to find. Wide release was for March.

where you can play games, and passwords to get items for your tamagotchi.

The pictures above were taken when I debugged my V3.

Those are all the characters *I hope* I don't think I missed any.

Not all of those are characters you can actually get. Some are visitors.

Here's a little warning: When you debug the v3, you get all the usual features like choosing what character you want and hyperspeed, BUT there is a negative side effect: YOU WILL NO LONGER BE ABLE TO ENTER PASSWORDS! If you debug before you hatch the first egg, YOU WILL NOT EVEN BE ABLE TO ENTER A USERNAME!

Unlike the V1 and V2 only being limited to have only one choice of meal and snack. The V3 has 4 choices per each catagory. When you choose meal It will offer to choose between Scone (English Sandwhich), Sushi (raw fish) Bread and then cereal.

The only icons that are the same are the Toilet, Discipline, Medicine, and lights icons. They still have the same functions as the older tamas.

There are 6 different games. A music note catching game, bump, flag which is like simon says, heading, memory, and sprint.

There are 3 ways to connect now. you can play a game, give a present, or just take a visit. The friend list and prestent list is still under the friend icon, but they added new choices as well. Like point, where you can donate well earned gotchi points to the king. once youve donated enough you will recieve a password to go visit him on tamatown.com. Then after "point" there is family. Where you can go in and lok at either your tamagotchis parent or grandparents. There you will get a code to use on tamatown to visit your old tamagotchis that left you. Also under the games icon you can enter a password that you obtain from Tamatown.com. You set up a user name on your tamagotchi and use that same user name on tamatown, to get your own special unique code. You will usually just get souviners that you can view but cant use.. but its still fun to collect them.

The V3 also has some special shop codes.

AABB CACB = RC Car

CACA BABC = stuffed animal

ACBB BACC = hairgel

ABBA ACBA = cake

BCAB ACBC = steak

CBAC CABC = cuckoo clock

BCBC CABA = love potion?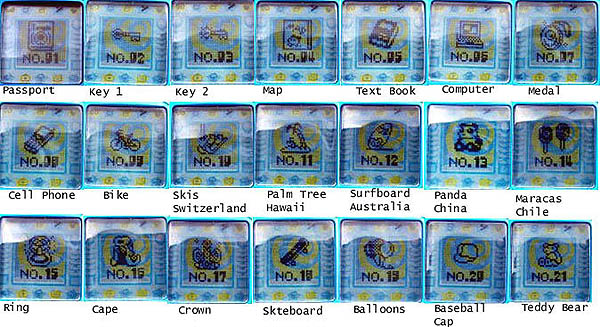 These are in order of passport number. Things like the bicycle and cell

phone may not work b/c they are character specific. The trip items were all

obtained with a Leaftchi. I don't know if they would work for all Leaftchi's

or not

These passwords were all got with the user ID " tink "

1.  Passport    25531 70387

2.  Key 1        98171 83173

3.  Key 2        06011 52701

4.  Map           67825 33888

5.  Text Book  08273 42057

6.  Computer   76657 37708

7.  Medal        30587 64317

8.  Cell Phone  70194 29790  (Leaftchi kid to Decotchi parent)

9.  Bicycle       62584 68741  (Leaftchi kid to Pyonkotchi grandparent)

10. Skis (Switzerland)  89497 58968

11. Palm Tree (Hawii)  39225 58613

12. Surfboard (AUS)    37139 06723

13. Panda (China)        56851 07059

14. Maracas (Chile)      76563 07395

15. Ring         69371 53937

16. Cape        63099 51197

17. Crown      78161 05889

18. Skateboard  45745 11994

19. Balloon      94129 21162

20. Baseball Cap  75633 14140

21. Teddy Bear   53681 08202

22. Tamagotchi   84091 84381

23. Rare Disk       57617 42571

24. Rare Shoes    41467 47697

25. Poster 1        50107 56115

26. Poster 2        84401 01346

27. Poster 3        29009 39537

28. Bandai Ribbon  57883 52884

29. Mic               57137 17166

30. Suitcase        14395 46359

31. Trophy          47419 60135

32. ?????            ????????????


June 6, 2007 - Tribute to Aaron

Aaron was hatched March 15th, 2006. He was hatched for the sole purpose of seeing just how long a new generation tamagotchi could live. His home was a translucent pink V3 shell, which he ended up calling "home" for 145 tama years. He died on August 7th, 2006. To date, Aaron is the longest lived tamagotchi that we know of with record and proof of his age. I became very attached to him over the months. He became more than just a Virtual Pet. I know it sounds goofy, but Aaron was one thing I looked forward to every day.

It was really all my fault that he died. See, I was in a time zone one hour behind my own(on vacation), so Aaron went to bed at 7pm and got up at 6am (instead of 8pm and 7am). I should have changed his clock to match the area I was at. However, in keeping with the "never pausing, never messing with the time" thing, I didn't. The night before he died, I had gotten busy with family and missed checking him before he went to bed. When I did check him, there he was, fast asleep with poo beside his bed (for the first time ever I may add). I then checked his stats and he had gone off to sleep with only 1 hungry heart and 2 happy hearts full. I knew I would need to get up early to check on him. Of course, on vacation, I had no alarm clock to wake me up. I overslept. When I did finally wake at 7:30am, I ran to get Aaron, but it was too late. He had been up for an hour and a half with no one to care for him. Poor Aaron! Although I miss him dearly, I know he is up in Tama-Heaven telling all the young dead tamas stories about how he was one of the longest living tamas ever to have lived on planet Earth. Rest in Tama-Peace my dear Aaron! I will miss you! ~KM


I would like to thank Angie for most of the content of this page. ☺