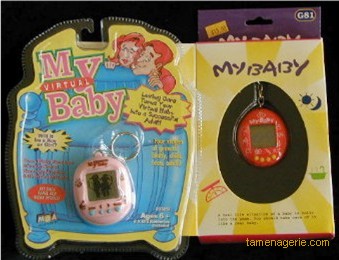 Elepets.

There are many different shell designs for this one.

These are the closest Tamagotchi clones I have ever seen.   The one I played with had actual Tamagotchi characters.

Of course the actual game play was different.

The buttons were nice and  responsive. It took three or four naps a day. All in all, I'd say this is a nice one if you turn the sound off! It beeps very often.

Lotsa Pets

Choose from three.

Penguin, bear and Puppy.

All the regular care.

I got this one so long ago, I barely remember it.

I'll have to take it out again some time.

8 in 1 Multi pet

Another nice multi pet.

This one was also packaged and sold as  Octogotchi.

As you can see from the package, there is a Dinosaur, bird, fish, butterfly, chicken, crab, cat and dog.

The functions are:  Feed, play, music (singing?), game (roll the die), dance, cleanup, sick care, age/weight, lights and attention.

I played with this one recently.

I did the Butterfly.

This is the only multi-pet that is nothing like Gyaoppi. The meters are shown as the icon is lit. The games are unique too.

The screen is also nice and bright.

This toy is designed for kids or young adults over 10 years old. The English & Math classes will require you to do actual math problems & English. The object of this game is to raise the boy to become a bright young man with a good career. Stay In School!!!

Other features:

Music: 50+ Songs

Drawing: Be creative, you can actually draw a picture on the screen.

=========================

Oh Yay!

I've finally got an English version of this so I've put up instructions now.

The Japanese version is playable with the instructions BUT there are two games that will not be able to be completed. The fill in the letter game and another school activity to find the meaning of the picture.

Smarty Time / RikouRikou Chan is a boy that grows up, goes to school. His growth will determine his career.

This is a game in which you raise the boy to adulthood. If you allow him to get enough education, he might pursue a bright career such as being a doctor, but if you neglect him, he might turn into a criminal at a young age.

There are only three places where this boy goes: home, school, and tutorial classes. At home, you can have him do his homework, watching TV or listen to music. At school, he has classes in English, Math, Drawing, Music, Physical Education, & Logic. As he grows up, he will go through pre-school, elementary school, high school, and to college. Each school level will become more difficult as he grows up. However, he must do well in order to get to the next level or grades.

At tutorial classes outside of school, RikouRikou can review his Math, English, and Logic classes. This is very similar to school. However, it gives him extra studying time to do well to pass to the next level.

My Virtual Baby

Play options include Feed, play, study, exercise, clean, medicine, train, career and sleep.

This one goes through a full life cycle. Baby, child, teen and adult.

My Baby

I think this one came from my friend in Australia.

It has all the regular functions.

Food ( bread, meat, water)

Game, medicine, education, horizontal bar for exercise, cleaning, sleep, health indicator, hint indicator and warning beeb.