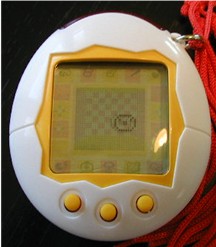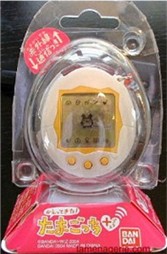 My stuff --------------------->

My Tamagotchi Plus!

I got mine Mar 30, 2004

The English language ones and The Japanese ones are able to communicate! So that's a great thing to hear about.

The Tama plus can now celebrate holidays since it keeps track of the actual date. :0)

Japanese special days celebrated by the Tamagotchi Plus are:

January 1st, New Year's Day.

March 3rd, Girls' Day.

May 5th, Boys' Day

July 7th, Star Festival

September 15th Moon Festival

December 24th Christmas Eve

Small special events happen on the screen in commemoration of these Japanese holidays.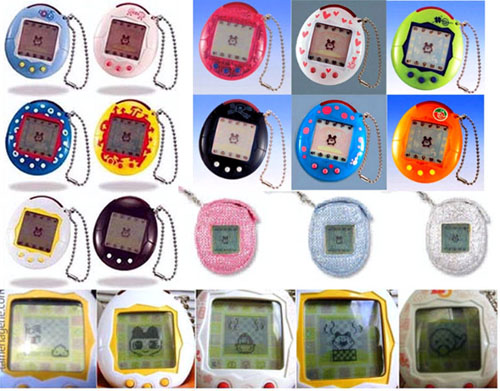 Japanese first and second generation colours.

Scren shots of my JP tams.

The English and American releases came out well after the Japanese release.

The English tams are the same color as the Japanese ones but say "Tamagotchi" on the top.

It was nice to see some fun new colors with patterns for the American release.

I have  now seen every possible character in the JP tamaPlus. :0D

I "Debugged" it.

All you have to do is open the back of the tamagotchi and scratch two areas where it says "Debug" on the circuitboard.

This must be done with a pencil.  The debug spots are on the battery side. You do not need to go to teh display screen side.

You're not supposed to scratch those areas off, just rub at them a little.

I got it to work on the Japanese version and the American version. The American one just buzzed at me when I played with it. I'm not sure if I fried it or just what happened, but eventually it did work and the buzzing stopped.

This will not work on the Australian version because the circuitboard does not have the debug spots.

When you are able to get in to debug mode, you can scroll through the characters and start any one of those you want. :0D

There is also a nice side effect to this tinkering. When you put your tam back together and start it up normally again, you might be able to use the HYPERtime mode by pressing the C button. It will automatically stop when any event occurs.

Such as poop, any special animation, calls for attention so you won't miss a thing.

This also works on the American V2 and V3.